How to Build a Universal Keypad Controlled Switch using cheap off-the-shelf components.



Universal Keypad Switch - Support Material



Connecting this interface - between the keypad and the control board - will add a "beep" to the keystrokes. The diode network allows each key to do two jobs simultaneously. That is - as well as providing an input to the logic circuit - it switches the transistor on and sounds the buzzer.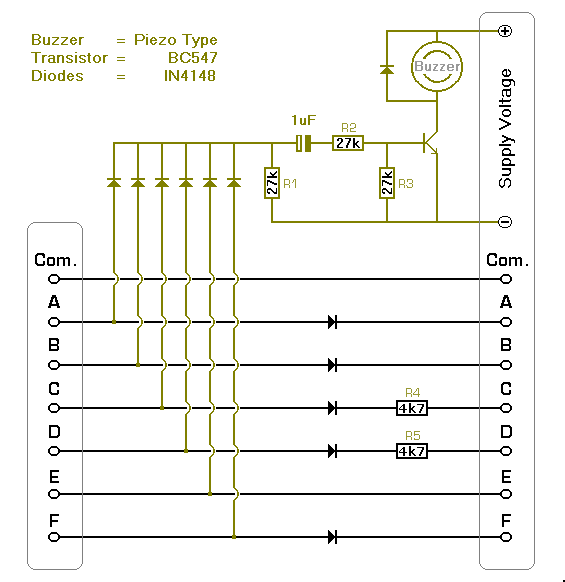 Use a small piezo type buzzer with an output of a few kilohertz. The length of the beep is controlled by the value of the capacitor - the larger the value the longer the beep. So that the capacitor can discharge between keystrokes - its positive terminal is connected to ground by R1.

As before - choose the key you want to use to energize the relay - and connect it to terminal "E". Choose the four keys you want to use to de-energize the relay - and connect them to "A B C & D". Wire the common to the "COM" terminal. And connect all the remaining keys to "F".



Veroboard Layout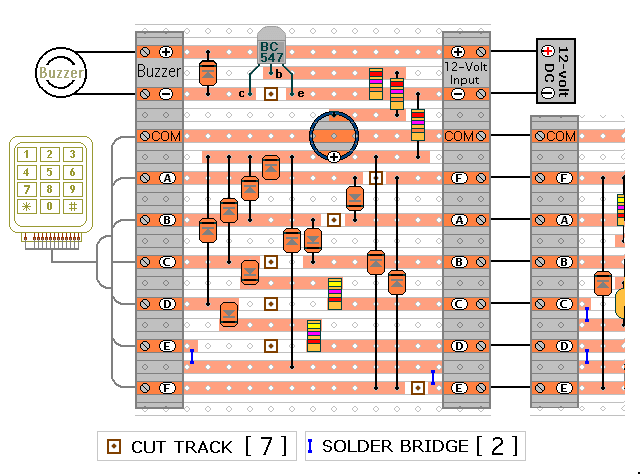 Universal Keypad Switch - Support Material