An LDR (Light Dependent Resistor) and preset let you choose the light level at which the relay energizes and de-energizes.
Learn More About Cmos Inverters

Circuit No.1 - Parts List
















Learn More About Cmos Inverters

Circuit No.2 - Parts List
















Construction Guide
Click here if you're new to constructing stripboard projects.
Actual Size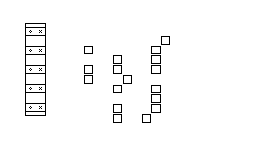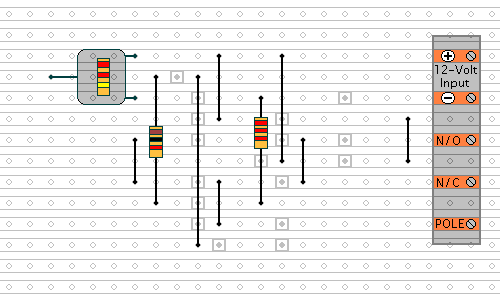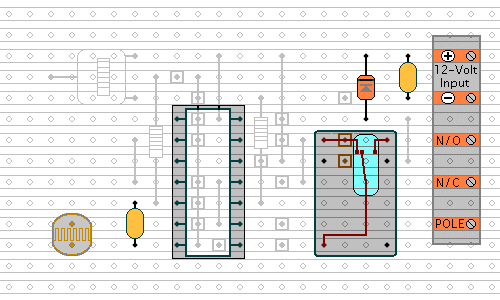 Turn the board over and examine the underside carefully - to make sure that there are no unwanted solder bridges or other connections between the tracks. If you backlight the board during the examination - it makes potential problem areas easier to spot. When you're satisfied that everything is in order - add the 6 solder bridges.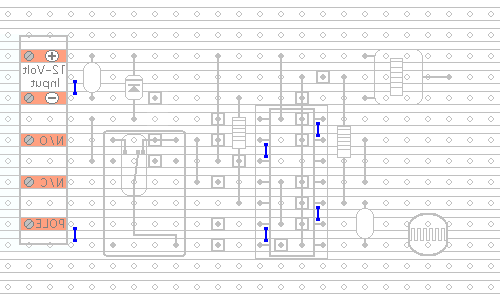 Fit The Transistor
So far - the construction of both Circuits 1 & 2 is identical. All that remains now is to fit the correct transistor. For Circuit No.1 - it's a PNP transistor. For circuit No.2 - it's an NPN transistor. Note that the transistors face in opposite directions. In Circuit No.1 - the BC557 faces left. And in Circuit No.2 - the BC547 faces right.



Circuit No.1 - BC557 PNP
Circuit No.1 - Photo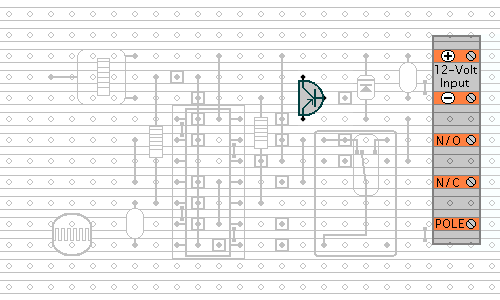 Circuit No.2 - BC547 NPN
Circuit No.2 - Photo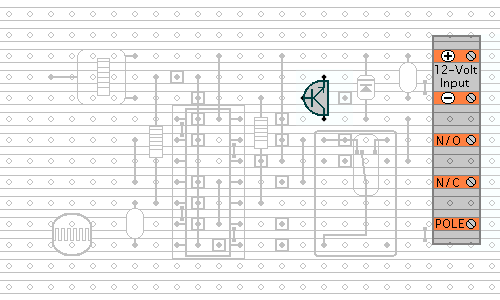 Finish off by inserting the Cmos IC into the socket. Pin 1 of the IC should be in the top left-hand corner. Check that all 14 pins have entered the socket. Sometimes - instead of entering the socket - a pin will curl up under the IC.




You Are Now Ready To Test Your Finished Circuit Board.